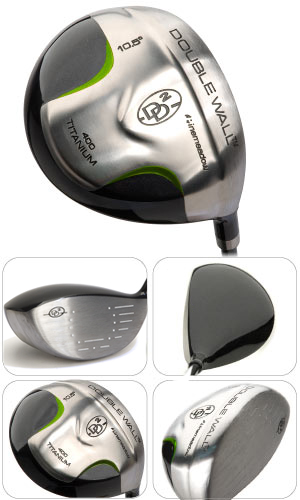 Doublewall Driver
$149.95
Featuring an exclusive proprietary design by Pinemeadow Golf
Whoops!
You've found a product that we no longer carry. We appreciate your interest and encourage you to explore the rest of our site by clicking here. For help finding a similar product or other questions, please contact our customer service team.
The Doublewall clubs feature a classic low-profile head design, borrowing its look from the very styles that made the game what it is today. The driver is a refined, technologically advanced, high performance titanium driver. It features a 400cc classic "pear" shape head design with a retro-classic groove pattern from the persimmon days.

How can a 400cc head be as forgiving and long as a 460cc? By adding a second wall 8mm behind the titanium face and condensing the volume, the head has better structural integrity and allows the entire face of the club to respond in a way that provides multiple hot spots. The traditional sweet-spot is no longer just in the middle of the face, we have created a the whole club face to feel and react like a driver hit right on the "screws". Here is more information regarding the testing of the Doublewall technology.

BioMechanica, an expert biomechanical engineering firm that provides counsel to the USGA and builds the golf club testing cannons that are standard in the golf industry, was hired to test the Doublewall technology. The test results are amazing. BioMechanica found that the hitting the Doublewall off-center (like most of us do) will only decrease your performance by 2.9%. That's 18% better than the nearest competing club for off-center hits!

Click the links to discover more about Pinemeadow's exclusive Doublewall technology and how we created the biggest sweet spot in golf.
Improved C.O.R. across the entire hitting surface creates the largest most consistent sweet spot in golf.
Latest technology in golf for high performance golf driver.
Exclusive Power Chamber generates higher ball velocity equaling improved distance.
Larger 400cc clubface vs. the older 360cc version.
| Club | 1 | 1 |
| --- | --- | --- |
| Loft (deg) | 9.5 | 10.5 |
| Lie (deg) | 56 | 56 |
| Weight (g) | 205 | 205 |
| Face Height (mm) | 52 | 52 |
| Face Angle | 1 | 1 |
| Volume (cc) | 400 | 400 |
Shaft and Grip:

Face:

Beta Ti (2.4mm)

Body:

100% Titanium

Insert:

6AL-4V Titanium

Finish:

Charcoal Gray

Bulge & Roll:

10x10

Headcover:

Included
Showing reviews 1 through 5 of 24
Phyllis Gresky

said the following about this product on

08/02/14

08 02 14 Just got my Double wall driver and I love it, I hit it as far if not further than my Taylor Made Burner driver.
Sherman M

rated this product on

08/02/14

I have been a customer of Pinemeadow for several years but did not use a PM driver. I have struggled with my driver consistency. At 58, my irons and short game have never been better but lack of distance from the tee was really stressing my game. I was not getting the driver face square with a 460cc. I reasoned that the smaller head on the Double Wall driver might help me square the face and at the price figured I would give it a shot. I have used the driver 5 times and seen a marked increase in distance. I implemented a self diagnosed swing change after receiving but I am hitting the ball farther than I have in years with this club. A great drive for me was 230 yards. With the DW driver, I have recently hit multiple drives between 250-270 while splitting the fairway. My playing partners have noticed my new found distance. The club is definitely worth every penny in my particular situation.
Decker Sanders

rated this product on

05/01/14

Using the fitting guide on the website, I spoke to a friendly, knowledgeable, staff member and ordered the Doublewall driver@ 9.5° with the stiff shaft cut +1/2 inch. The transaction was flawless, including the payment, shipping, and workmanship on the build. Given this driver meets USGA restrictions, I experienced a modest increase in distance of 3-5 yards on center hits. I was thrilled to see the claim of less distance lost on off-center hits validated on the range and the course. Offline hits we're virtuality parallel to my center hits. The variation of distance to dispersion was minimal. Other mfgs claim to have created "hot zones" over the entire clubface, the Pinemeadow Doublewall driver actually has it. The club is great, the customer service excellent, and I am very pleased. I will do business with Pinemeadow Golf for my club needs again!
Matt H.

rated this product on

05/30/13

I was able to get a 10.5 - 400cc "like new" with help from Tyler in customer Service. The customer Service was every bit as superb as I have already come to expect from Pinemeadow! When I hit the range after a week or so, I made a slight correction in my swing, & I am out-driving everyone on my league!! 275average & I only started this year..
Eric

rated this product on

04/02/13

I have tried most all of the new Brand Name Drivers and none of them out hit my older 360cc Doublewall Driver. I would really like to find another one to put in my travel bag. The technology/club may be older or maybe not as 'gimmicky' as the latest clubs out there, but it hits straight, long, and sounds good also. At 64 years old I hit it 250 to 270 yards, with the larger head drivers I am lucky to get 235 yards. It is a very good club from a group of people that care about you as a customer. Highly Reccommended!!!