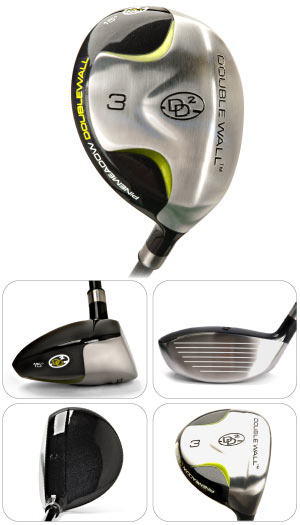 Doublewall 3 Wood
$99.95
Featuring an exclusive proprietary design by Pinemeadow Golf
Whoops!
You've found a product that we no longer carry. We appreciate your interest and encourage you to explore the rest of our site by clicking here. For help finding a similar product or other questions, please contact our customer service team.
Along with the driver, workability in the fairway wood is what we have been striving for throughout the product design on the Doublewall 3 wood. A compact low profile head design giving you the cutting edge on those ever important long shots out of any type of lie on the course. In addition, the woods can be used to hit long but controlled tee shots resulting in better scores.

The wood features a heel to toe groove pattern, allowing players to increase spin rates and avoid those "knuckle ball" shots that tend to go off target. The technology of the Doublewall face allows you to hit shots at all trajectories, work the ball both ways and have confidence off the tee box and fairway.

The fairway wood is also available in 3 different lofts letting you choose which loft is best for you. A 15* loft is recommended for most players. All other lofts are available but are suited for better players based on skill level and what loft is a better fit for them.


Click the links to discover how our exclusive Doublewall technology creates the biggest sweet spot in golf.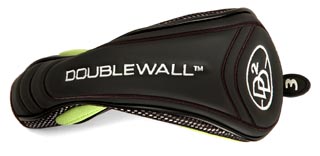 Fitted standard with our low-torque Aldila Mid Launch Pro Graphite shaft.
| Wood | 3 | 3 | 3 |
| --- | --- | --- | --- |
| Loft (deg) | 14.5 | 15 | 16.5 |
| Lie (deg) | 58 | 58 | 58 |
| Weight (g) | 210 | 210 | 210 |
| Face Angle | 0 | 0 | 0 |
| Face Height (mm) | 32 | 32 | 32 |
| Volume (cc) | 160 | 160 | 160 |
Shaft and Grip:

Face:

Maraging Metal

Body:

17/4ph Stainless Steel

Insert:

17/4ph Stainless Steel

Bulge & Roll:

10x8
Showing reviews 1 through 5 of 9
Joe

rated this product on

09/28/18

The club is outstanding!!! Great feel and performance! I am a 68 year old golfer recovering from open heart surgery 8 months ago. I have seen the advertisements for GX-7 driver 14 degree with a 43" length and thought I would try your product which was on sale. I have struggled with my driver because my swing speed is so slow. I decided to try the DD 3 wood as my driver. The results where excellent!! 190-195 yards but most importantly straight no fades or miss hits. I also had very good results hitting it off the deck using it twice with straight shots about 175-180. Great product!! With excellent service!!!
Decker Sanders

said the following about this product on

02/18/16

I purchased a DW Driver back in 2014 (see my review). I decided to try the 3W and a 4H this year. I received more of the same expert live person assistance as before. The order was built and shipped within 2 business days. The transaction was flawless. I took the new the new clubs to our simulator ( an E6). I warmed up with my previous 3W (TM Rocketballz) and on the first swing with the new DW (which I did not catch quite flush) the shot tracked as my best hit with the TM. After a few more shots I found the center consistently and found the club to be about 7-10 yards longer and easier to work the ball (especially a draw). I am quite pleased that I now have a matching set of 3 DW clubs and am enjoying hitting the long clubs more than I have in many years.
James B

rated this product on

05/15/13

I have the original dw 3 wood when it works its great,,, but thats probably my swing body shape and years playing,, with no coach or lessons, I still tend to slice I have had to replace my 3 DW with an antislice knife club from Sky tv, works a treat,,, still use your old hybrids excellent clubs, will be ordering new ones soon.
D.E.

rated this product on

06/27/11

I've reviewed these before but must add that during a round with a friend who can drive a mile, I jokingly offered my 3W DW on a par 4 345 dogleg left hole. He took me up on the offer and smashed about a 320 yard shot just shy of the green. Needless to say he was impressed by the feel of the doublewall. The 5W DW is my worst case scenerio "go to" club when forgiveness is needed.
Bullwinkle

rated this product on

06/02/10

I've had my DoubleWall 3-wood for a few years now (it's an original, not the "new look"). I have never been a consistent woods player; my strength has always been my irons, and I still use the set my dad bought me when I was 16, almost 34 years ago (Spaulding Top-Flite). When something works for you, you stick with it, right? Well I've finally found a 3-wood that 'works' for me, the DoubleWall is a keeper! I'm still not as consistent as I would like, but my confidence level with this club is greatly improved and still rising. I'm hitting straighter "more often" (no, I'm sorry to inform you that the club alone isn't going to magically cure your hook/slice and other accuracy woes), and I'm hitting the ball further than I'm used to. In fact, one of my biggest problems with this club is an increase in the frequency of having to apologize to the group in front of me for hitting into them. After decades of futility, I just can't accept the fact that I can hit the ball as far as I am now. The ball flies off the clubface, but yet has a nice soft feel to it, not like you're hitting a rock. It's just a great club all around. The one drawback I have with this club, however, is squaring the clubhead when lining up my shot; the "bulge and roll" is horrible (to me), and I can't help but wonder how much of my inconsistency is attributable just to the fact that the clubhead isn't squared properly when I address the ball. So the only suggestion for improvement that I can offer Pinemeadow is to add a center line on the clubhead or some other such visual aid if they're going to have such an exagerated curvature on the clubface. [FYI - It's even worse on the DW driver!] Other than that purely cosmetic issue, it's one heck of an awesome club! For the techno-geeks out there (like me), my 3-wood is not "stock". The stiff shaft is plus 1 inch, the grip is a Golf Pride Tour Velvet (love it!), and I upgraded the shaft, too, though I don't remember to what (there were more options available back then). I wanted a mid-low launch angle because for some reason I naturally hit a higher trajectory than normal, so the end result is more of a mid-launch for me. It is working out well. Enjoy this club, people!