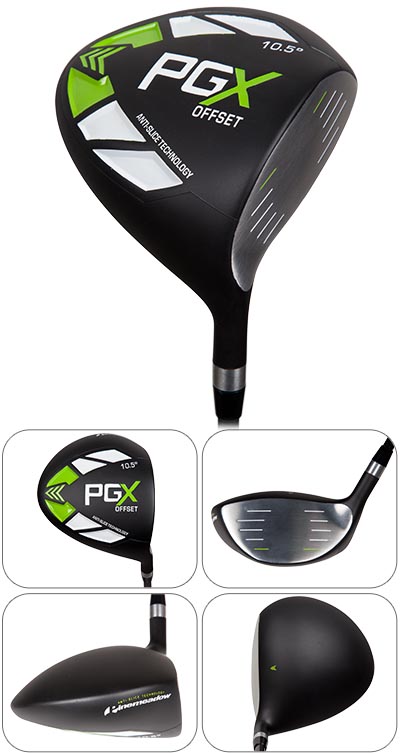 New Arrival
PGX Offset Driver
$79.95
460cc Oversized Anti-Slice/Offset Technology
The offset of the driver helps you square the ball at impact. Having a square face at impact is important and will result in straighter drivers.
The matte black finish and white and green gives the driver a clean and sleek look.
At 460cc's the driver offers every golfer a large sweet spot giving you maximum forgiveness.
Headcover included.
| Club | 1 |
| --- | --- |
| Loft | 10.5&deg |
| Lie | 58&deg |
| Weight | 200g |
| Volume | 460cc |
Shaft and Grip:
Showing reviews 1 through 5 of 32
Stephen Fenstemaker

rated this product on

07/25/21

I decided to wait until I had the chance to game the PGX offset driver before I wrote a review. I'm a senior golfer but often play from the mids or the tips with my 30 yr old son-in-law and 30 yr old nephew. I game a premium custom fit driver. Like many other senior golfers, when my back is tight, I get a serious push-fade. I wanted to try an offset driver for the stiff back days. I am fortunate to have a golf simulator in my house. The spin and launch numbers were inside the optimization parameters in the simulator. Took the PGX to the range with the SkyTrak and had the same results. Today I gamed it on a 71.1/124 6300 yard course and shot a 79! 10 of 14 fairways hit. GPS tracked several 235-250 yard drives. I am absolutely flabbergasted. I am a 12hcp struggling to get under 10. I throw away 5-6 shots per round chipping out of the trees in Ohio. Not anymore!!
TDave

rated this product on

07/05/21

Got my driver in. Went straight to the driving range. Hit two straight as I ever have in my life. The third, good contact but the driver head went further than the ball. Don't recommend this driver at all. Better craftsmanship is needed pinemeadow.
Tim

rated this product on

06/28/21

So far, I do not like the off set design. I did not have a slice issue, so maybe I should not have ordered this style. I bought it because I needed a new driver and this onet had the flatter face which looked like it would be more accurate. I generally hit the fairway 75-80% of the time. With this club, I maybe hit the fairway 25% of the time. I have hit about 40 shots. My normal swing has me pulling everything to the left (I am right handed) and when I do hit it straighter, there is very little loft. I'm not the best golfer, but this club really does react differently. That may be good for some golfers, but it is not working well for me. It may over time, but I'm frustrated with the result at the moment. For performance, I'd give it a 1/5 right now. Regarding the club itself, it is "ok". Club face, grip and shaft all seem good. The finish on the bottom of the club is in my opinion below standard. Where the paint fills the indent design pattern with the green/white as you can see in the pictures, I can feel sharp raised edges. Not sharp enough to cut, just very abrupt. It seems that this is the edge of the paint itself, almost like where masking tape is pulled away after you apply a thick coat of paint. In no way to I feel this is impacting performance for me, but it was disappointing. For fit/finish I'll give it a 3/5. Regarding order processing and serivce, Pinemeadow did pretty good. My original order seemed to sit idle for weeks until I contacted them for an update. When I did, they were very helpful and explained that a component was on back order for one of the four clubs I purchased. They were easy to work with and gave me very fair options to make this right and treated me well. My only complaint is that I had to reach out first to get the resolution process going. I did receive everything as expected after this communication process as they described. Because I had to initiate the conversation I'll give a 4/5 on service. They did outstanding after I made contact.
P.B

said the following about this product on

04/30/21

I received my new driver last week. Tonight I hit it for the first time during the opening night of my golf league. To set the stage, I usually hit the fairway 50-60% of the time and my distance has been consistently around 230-240 yards off of the tee. Tonight I hit 7 drives with the Pinewood driver. ALL 7 were not only in the fairway, they were ALL within 10-15 yards of the center of the fairway! Truly amazing how the slight offset face made my drives more consistent without losing distance. The Driver has a solid feel on contact with a straighter trajectory. I want people to know that my experience is real and not for advertising purposes. If I can help advertise this product, I am willing to do so. There are many people out there like me who can help their game with this driver.
Dan Mac

rated this product on

04/28/21

Okay! My new offset driver arrived over a month ago. Finally got free to go to the range. No exaggerating! The results were nearly immediate. 85% of my shots within a 25 yard cone. A true hit might have added 5 to 10 yards, but the effect of being in the fairway makes the second shot so much easier. Great club at a great price! Will add a second for my winter bag!