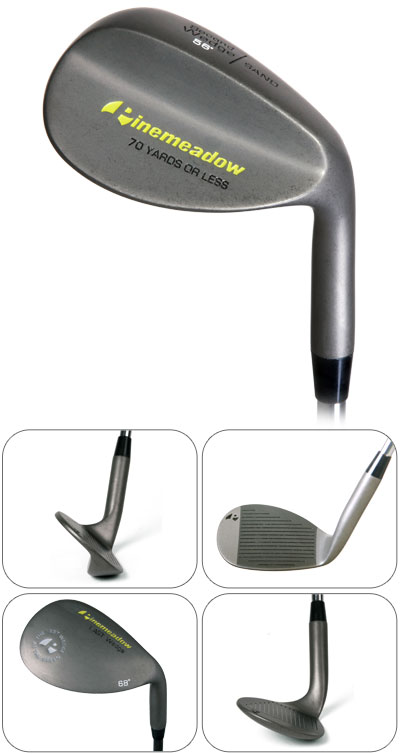 Pinemeadow Wedge
$44.95
Compare features and performance with the best classic wedge designs.
Our most popular wedge has a new look!

The new Pinemeadow Wedge is the same great wedge that has earned the accolades from many. Although the logo and look is different the club shape and features are exactly the same.

A dark tumble finished paired with a big sweet spot have made this wedge so successful. The expanded face area makes this wedge the easiest to play out of the most difficult lies allowing the golfer to get under the ball but still have enough club to generate control and ball flight. This wedge is also available in an assortment of lofts (52, 56, 60, 64 and 68) for both RH and LH players.

Built standard with high quality Pinemeadow steel from Apollo®, a 125 gram shaft with a low to mid kick point for the same $39.95 value, perfect for the beginning to average golfer.
Largest face area of any wedge available making the toughest of lies seem like perfect lies.
Available in 52, 56, 60, 64, and the impossible to find 68 degree wedge. The widest selection in both LH and RH.
Compare features and performance with the best classic wedge designs.
| Club | AW | SW | LW | UW | UW+ |
| --- | --- | --- | --- | --- | --- |
| Loft (deg) | 52 | 56 | 60 | 64 | 68 |
| Lie (deg) | 64 | 64 | 64 | 64 | 64 |
| Weight (g) | 298 | 305 | 312 | 312 | 312 |
| Bounce (deg) | 4 | 10 | 14 | 5 | 5 |
Shaft and Grip:

Material:

431 Stainless Steel

Finish:

Dark Tumble
Showing reviews 1 through 5 of 169
Stroiciel Jerzy

rated this product on

02/04/23

If you spend your free time playing or learning how to play, what instrument do you face, which instrument is your favorite? In my opinion, the piano sounds the best and also has the highest scale among all instruments and sounds beautifully in it as chords. Please briefly justify why this particular instrument deserves to be called your favourite.
Charlie Lamb

rated this product on

07/18/21

Bought the 52 56 and 60 great clubs and I hit them better and farther than all of the name brand wedges.
Neal

rated this product on

06/23/21

The club hit well when I swung the club properly! I was surprised when I hit it over 70 yds since it is lofted more than a standard wedge. I'm really excited to take this to the course to try it out for real. I found your company when I was searching the web for a gap/utility wedge. Your company was in a "top ten" list of wedges and so I ended up with buying yours since all the name brand wedges were $150.00 dollars or more.
Customer

rated this product on

03/23/21

I snuck onto a closed golf course to see how I hit the new 64 degree wedge. I am excited how well it works from the fairway and the bunkers ! Great product.
Josh Muir

rated this product on

11/16/20

I purchased a 52 and 60 wedge 1" over stiff shafts. I love them they've definitely improved my short game drastically. The ability to get on the green and the ball just sits there with the 60 is awesome. And the 52 is so universal it was the shots I couldn't make with a club set. They are a bit heavier in the head however gives a great feel. I would recommend these to anyone and for the price...why would you not?!?