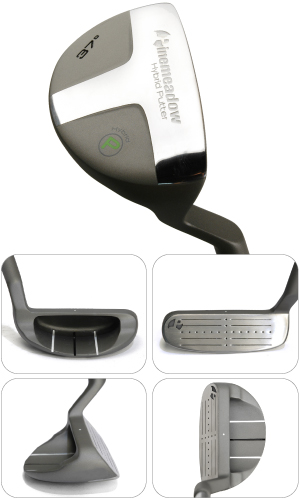 Pinemeadow Hybrid Chipper
$44.95
Compare features, performance and price to the Odyssey® Marxman X-act Chipper
In chipping, the hands need to be ahead of the clubhead during the swing for solid impact. The Pinemeadow Hybrid Putter features an offset hosel, which presets the hands at address, providing solid shot after solid shot. The heavy mallet chipper head also promotes a true pendulum motion and won't get stuck in the turf. The 37&deg loft on the club gets the ball up and running easily. The smooth radius of the sole allows for use in any lie condition.

Club comes assembled at 35".
Club
Loft
37
Lie
72
Weight
340
Std Length
35"
Showing reviews 1 through 5 of 30
David Walter Hall Jr

rated this product on

05/16/21

not one for writing reviews but after using this club on the golf course I had to. I practiced with this chipper in my yard for a couple of weeks before I went golfing and it goes where you aim it, just follow thru a bit and get the distance down, I finally used it today on the 10th hole and chipped within a foot, used it a couple more times and chipped in once and come close all the other times, I have been golfing for a long time and always thought this club was just another gimmick to waste money on but I was so wrong, i love it
John Dorr

rated this product on

01/21/20

(4 stars only because I haven't played it yet - could be five if I fall in love with it on the course) But the reason I wanted to write this review was to correct the conclusion by LJ and Pinemeadow that it's an illegal/non-conforming club. I ALSO wrote Pinemeadow and got the same response he did - that it was non-conforming, but Pinemeadow suggested I check the rules. So I did. In the R&A/USGA rules on equipment rules, conformance, Part 2, page 20 the only rule regarding chipping clubs (except for the no two-way leftie/righty rule) is about length. It says a 37* chipping club like this one has a maximum length of 38.5". This club comes in at 35", so it IS conforming.
Ralph

rated this product on

07/06/18

The club arrived ahead of schedule. I have had opportunities to practice with the chipper and to play with it. I am delighted with the club—it hits the ball where aimed, and can provide enough height to clear most obstacles. What I now need to learn is distance, which will require more practice. I would strongly recommend the hybrid chipper to golfers like me, who are erratic when chipping since this club makes good chips possible.
LJ

said the following about this product on

04/27/17

Bought this back in 2013 from Walmart, described as a "Hybrid Putter" then. It's a great chipper, BUT it does not conform to USGA rules. I had this confirmed through an email from Pinemeadow about two years ago. Just an FYI.
CONRAD BIRD

said the following about this product on

05/13/16

This club is awesome!!!! I took it to the range today and I could not believe how straight you can hit the ball from around 100 yards out. I hit a half of my bag of balls with this club and it is mind blowing.... Straight as an arrow. Close around the green it is remarkable. Chip shots are a breeze and once you get the feel of this club it will become your "Go To Club" big time. It will take strokes off your game. Just give it a try. I think I will order a 2nd one just to have in reserve.......