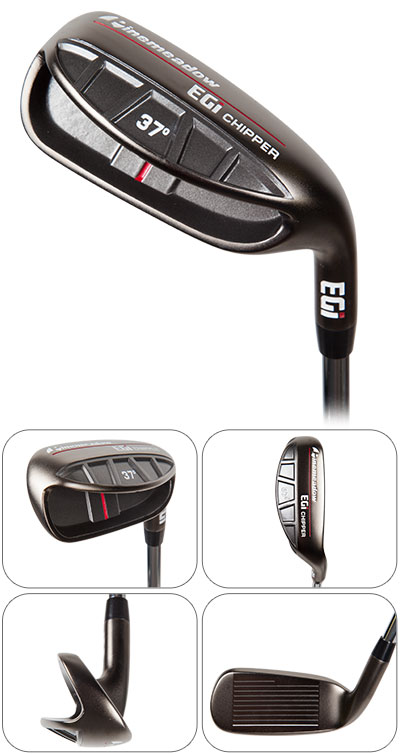 Pinemeadow Excel EGI Chipper
$44.95
If you struggle with the "yips" around the green this club will help instantly. The EGI chipper is the perfect club to use around the green. You play it like a putter but you get the loft and touch like a wedge. Add the chipper to your bag to improve you short game and start to see improved scores instantly!
| Loft (deg) | 37 |
| --- | --- |
| Lie (deg) | 67 |
| Weight (g) | 295 |
| Offset (mm) | 3.3 |
| Bounce (deg) | 8 |
| Length (in) | 35 |
Showing reviews 1 through 5 of 5
Pat

rated this product on

08/13/21

I am really bad with short chips just off the green. I bought this chipper and it has really helped my game. Works great and the feel is really nice. The heavy head helps keep me hitting properly. Yes, I know that I could also just work really hard on my game, but I work for a living and don't have time. This chipper works for me and I really am happy I bought it.
Robert Karrenberg

rated this product on

07/08/21

Have used this club for almost a year now and it will stay in my bag., it has helped lower my handicap by 4 strokes. Can hit shots from 90 yards out in the fairway with much better accuracy and distance control than a wedge. The weight of your shot requires some practice, especially close to the green to avoid running way past the hole, but way fewer fat or pulled wedge shots from inside 90 yards.
Douglas

rated this product on

03/24/21

The chipper is probably going to be my favorite club. It was just what I needed to improve around the green.
mike valdez

rated this product on

10/26/20

I bought this chipper several weeks ago and i wish they would make a complete set. I know i would be first line to buy a set.
Ron Glock

rated this product on

07/24/20

I have both the Wilson Staff harmonized chipper and the Pinemeadow EG1. Between the two I recommend the Pinemeadow as it has a more solid feel and less effort for the same distance shot. Gave it a three as it was delivered at 34.5" length when their spec in the description of the EG1 clearly states 37" length.