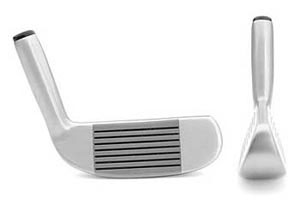 The Two Way Chipper has a double-sided face to get you out of the most difficult situations. This unique golf club will improve your short game and the results will lower your score. It can be used by either RH or LH players.
| Club | Chipper |
| --- | --- |
| Loft (deg) | 29 |
| Lie (deg) | 73 |
| Weight (g) | 305 |
| Std. Length | 35" |
Showing reviews 1 through 5 of 27
Betty

rated this product on

04/02/21

Hookup Ladies Utilizes Free of charge Affairs? An Excellent Side to side Benefit! Cost-free hookup girls Find Out More on the internet is the answer if you're fed up with planning to night clubs and organizations simply to be ignored, or even even worse, laughed at. I know what it's like because I've been there. I used to be one and desperate in the day time -- I essential a brand new companion -- having said that i continued seeking because I needed hardly any other option. If you're one particular man who wants to hookup with attractive females without gonna those places where girls are alone, this write-up might just change your existence. It can explain why dating on the internet is the greatest substitute if you're a male who seems to be too shy to strategy a beautiful lady within a pub or team.
SandradowRC

rated this product on

02/24/21

Russian actor Panin is seen on an erotic resource loveawake.ru
Gertie

rated this product on

04/04/18

Excellent, what a website it is! This blog presents useful information to us, keep it up.
Richard

rated this product on

11/14/17

I'm not a tournament player, I am just a weekend player, so I can't give any helpful advice to anyone wanting to use this for that style play. I am a pretty mediocre golf player. I can't drive very well, but I can use irons rather well... or at least I used to. I don't need them any more since I bought this club. Yes it is a chipper, but found out a little side bonus. I can hit this club legitimately 100 ~ 150 yards and WAY more accurate than I can hit any iron. I don't know what it is, probably the short shaft of the club and forgiving club face, but I always get great loft, and if I swing it hard, I even get backspin a good number of times when I hit the green (which I'm not that good at typically). Even when I mishit the club (because I'm not that good of a player), it STILL goes straight and a decent distance. I can pretty much rely on this club, a 1 iron I use, and my putter to play an entire round and shoot Double Bogey to Bogey golf. This club is worth $100 in my bag!
Derek G

said the following about this product on

06/21/13

I really want this club for the novelty of being able to hit a right handed shot (Lefty here) if stuck next to a tree. But apparently the club is illegal. I don't want to spend 25 on a club I'll likely never use, and shouldn't even have in the bag in the first place. Can this item go on sale to 10-15 dollars instead? I'll buy it if it goes on sale/clearance. Otherwise, I guess I'll just bring one right handed club with me.