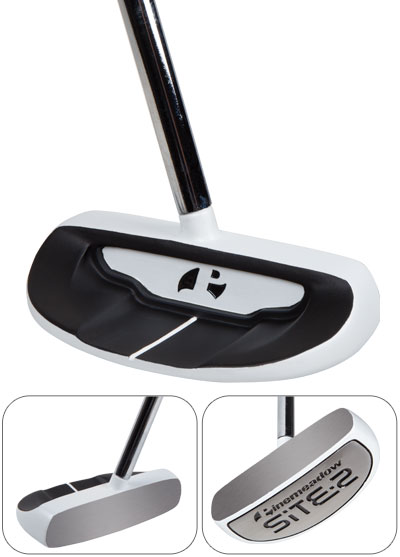 SiTE 2 Putter
$49.95
Compare features, performance (and price) with Odyssey® Versa Series Putters at $169+.
Introducing our latest putter series: SiTE

The main feature of the SiTE line is the high contrast black and white design of these putters. This provides unparalleled confidence as you stand over your upcoming putt. Know with certainty whether or not you have achieved a straight back, straight through stroke every time.

Specifically, the SiTE 2 features a half mallet head, fitted with a center shaft. This enhances stability and allows you to swing the club on line more easily.

Warning: this putter may cause lower scores and a sense of accomplishment.
Compare features, performance (and price) with Odyssey® Versa Series Putters at $169+.
Includes headcover
| Club | Putter |
| --- | --- |
| Loft | 2 |
| Lie | 71 |
| Weight | 350 |
| Men's Std. Length | 34" |
| Ladies Std. Length | 33" |
Shaft and Grip:

Finish:

White & Black
Showing reviews 1 through 5 of 7
Greg

rated this product on

09/26/18

Absolutely loving this putter! I debated on getting a center shaft putter for awhile but knew I would never pay the ridiculous $100's of dollars for a big market brand. Came across the Pinemeadow center shaft and it delivered immediately, I am dead on straight solid with every putt!! I honestly couldn't be any happier, an absolute solid putter that didn't break the bank. I only wish I had found it sooner!
Tom Walker

rated this product on

04/08/18

In the recent past, I have purchased four Pinemeadow putters: an earlier version of the PGX, the current PGX, the PGX SL, and the SiTE 2. I have used them all for several rounds and have found them all to be good, reliable putters; however, my favorite is the SiTE 2 which is one of the few center-shafted putters on the market. Since taking up the game a long time ago, I had always used a Bullseye putter in a style similar to Isao Aoki. Over time my putting has deteriorated faster than any other part of the game. With the center-shafted SiTE 2 I can keep the face angle of the putter square to the target line throughout the stoke with only minimal rotation in the backswing with a more upright stance and a claw grip. As a result, I am making significantly more short and medium putts with the SiTE 2 than with any other putter. (Long putts are still a work in progress). I also feel very comfortable putting off the toe of the SiTE 2 on downhill putts and/or short putts where more touch is required. Yes, the paint chips quickly on the SiTE 2. But who cares about golf cosmetics? I never use head covers. I only care about hitting some good shots, scoring, and taking a few dollars from my golfing partners. At $35, I'll just order another SiTE 2 as a backup to the one I now have. Frankly, I am still pleasantly surprised that a center-shafted putter has given such comparatively good results.
Mel Willie

said the following about this product on

09/16/17

I really like this putter. I bought it because I always wanted to try a center shafted putter and they are hard to find without spending $100 plus. It turns out the center shaft fits my game really well. It was just a hunch because I've always struggled with alignment. I own about six putters that I've collected/inherited through the years, all different styles and brands, and this one is in my bag. It is a lot more solid than the photos indicate. Paint chipping can happen. If it begins to bother me I will touch it up with nail polish. I wanted to post this because there aren't many reviews for this putter but it really is a good center shafted option if you think that style can help.
bobbie

said the following about this product on

06/02/16

I like the putter but the paint has chipped off a good bit. I haven't used it that much either. I'm very disappointed because I do like my other Pine Meadow clubs.
J rabbett

said the following about this product on

05/29/16

Nice putter for the $$ BUT the paint began chipping off after the first round after 4 rounds it looks like a piece of CRAP - Would never buy anything again from PineMeadow - which i could return it because i am embarrassed to have it in my bag.