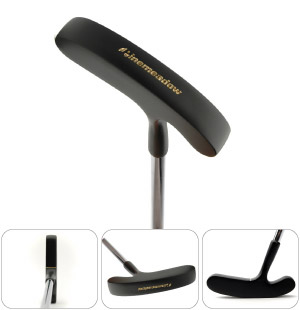 Black Zinc Style 103 Putter
$29.95
Classic Blade Style Putter
Standard Putters are available in a wide variety of styles. All golf clubs are die casted in zinc alloy.
Compare features, performance and price to the classic Titliest® Bullseye Style putters.
Assembled at 34"
See Description and Features for more details.
Showing reviews 1 through 5 of 10
Jerry

rated this product on

10/27/14

I have used this putter for several years now. I have other putters, some by well known brand makers, with big advertising. Many putters have big technology built in. However, the more fancy, the more technology, the more one relies upon technology, AND THE LESS ONE RELIES UPON FEEL. This putter is the definition of simple, and thus it is the definition of feel. To me it is the extension of my arm in such a way as other putters do not achieve. Also I like the grip. My distance control especially is benefitted by this "feel." I was watching a video of Butch Harmon teaching putting, and how about that, he uses this type of putter! Simple, straightforward, less rather than more -- perhaps this is the best approach to putting. And you cannot go wrong with the price. It is an investment you can afford to make. Give it a try. Thanks to Pinemeadow.
Eric

rated this product on

12/06/12

I remember using this "style" of putter when as a teenager, I used to play golf with my Dad. In the 1960's this was one of the best styled, all brass, putters to own, but in those days it was about $35.00, that's in mid 1960's dollars. It is pure putting, with no built in MOI, or specific weighting built in to help keep alignment true and straight. It was about how the shaft was placed in regard to the putting head itself, thus more balanced than most putters of that era. So if you are a putting purest, for about $15.00,[ yes this one is not pure brass ] buy one just to learn what it was like to putt 50 years ago. You also may want to buy one and use it as a trainng aid to enhance both your feel for the putt, and as a putting trainer to help you get more out of your present putter? Today, there are very few, effective training aids, also rooted in history, that only cost $15.00, that can save you strokes, where it counts most, on the greens.
Dave

rated this product on

06/20/12

Love this putter! It is simple and has good feel. I used to have a lot more problem using the over sized putters but this one is just perfect.
Phil

rated this product on

12/09/11

This is a good basic putter and at a great price.
i

said the following about this product on

11/30/09

is this for left handed ?