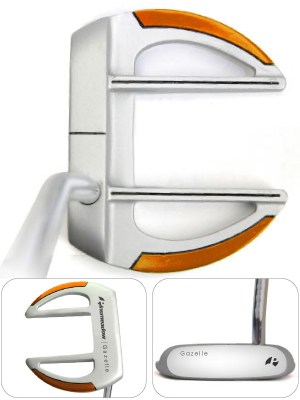 Gazelle Putter
$39.95
Compare features, performance and price to the Odyssey® White Hot XG Sabertooth Putter.
Whoops!
You've found a product that we no longer carry. We appreciate your interest and encourage you to explore the rest of our site by clicking here. For help finding a similar product or other questions, please contact our customer service team.
The Gazelle putter by Pinemeadow was designed with a unique shape to help your putting game. Two stabilizing arms, positioned behind the putter face, move weight to the perimeter of the putter, keeping your putting stroke in-line and balanced.
Free headcover with purchase of putter.
| Club | Putter |
| --- | --- |
| Loft | 3&deg |
| Lie | 90&deg |
| Weight | 350g |
Shaft and Grip:
Showing reviews 1 through 5 of 22
al randt

said the following about this product on

10/01/15

Got a real deal on this through Amazon and I way underpaid for it for quality. I have a putter I've used for over 15 years and putt very well with it. However, always have to try something new. Anyway, first time out it had the same feel as my putter and putted very well with it. The grip is the right size for me, not a fan of the super fat putter grip that's in vogue now. It's in my bag. Also, since I'm in the senior status age, I really like being able to pick up the ball without bending over. I could do that with my old putter, but not as easy as this one.
Phil Billings

said the following about this product on

09/04/15

I like the putter, it feel comfortable in my hands, but to early to know if it will reduce my putts on the green. Writing at this time to note that the quality control that checks items before shipped is lacking. My Super Stroke grip was off center to the right. I assume the putter was boxed before the grip was dry, this allowing the grip to move during shipping. My local golf shop adjusted the grip location for only $2, but I should not have had to even do this.
Beerad

rated this product on

12/23/14

Got this putter and loved it. The tell-tale ring you get when you are dead on the ball is an added plus. I too added a fatter grip to my Orange Gazelle, with Orange accents. Really looks good and the feel is spot on.
Seve

rated this product on

11/05/14

Had a chance to try it at Fl. home. Had it shipped to compliment my old set of clubs for vacation home. Love it. Well balanced and nice off the face.
Ron L

rated this product on

08/19/14

I purchased the putter with the big Lite grip in orange and -1/2 ". I took a lot of razzing about never holding anything that big in my hand before, but now I notice that some of my friends have gotten very large grips also. The putter itself has worked great, I have lowered my handicap about 2 points. Buy it you will like it.