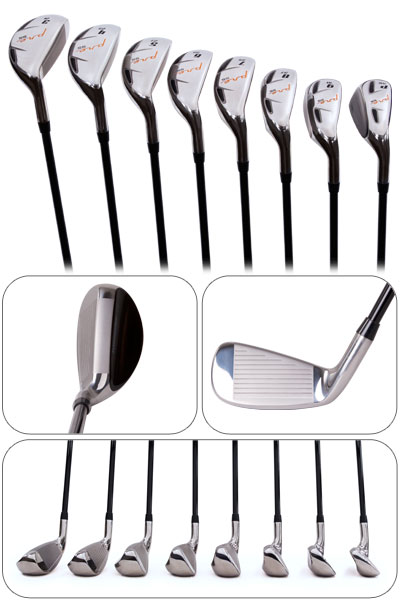 Best Seller
PRE Progressive Hybrid Iron Set
$399.95
Compare features, performance and price to the Cleveland® Launcher HB Irons.
We've listened to the feedback from our customers and created a set fully designed to improve iron play.

The PRE name stands for Performance Ready Equipment. The series allows players of all skill levels to play the most modern and new age technologies in golf. One of the first clubs created in the PRE series is this unique hybrid set.

The hybrid iron set is designed around a full hollow construction throughout the entire set, providing a seamless transition. Long irons were designed with a wider sole plate and added offset offering maximum forgiveness, while the shorter irons are crafted with a smaller sole plate and reduced offset to increase control and effectiveness. This progressive appearance has become very popular within the hybrid set being sold in the market place.

If you are struggling with your current irons this is the solution for you. Trust us, you will not be the only one in the marketplace giving up tradition irons for a set like this.

Progressive sole width and offset
Full hollow construction through out the set
Recommended to be built with our standard Pinemeadow Hybrid graphite shaft
Color scheme is black with orange highlights
Headcovers included for all clubs
Suited best for golfers who have trouble hitting down on the ball
Increased MOI than your classic iron
Center of gravity is 6 times deeper than a classic iron, this increases the launch angle
Larger hitting area
Compare features, performance and price to the Adams® Idea a70s Hybrid Iron Progressive Set.
| Club | 3 | 4 | 5 | 6 | 7 | 8 | 9 | PW |
| --- | --- | --- | --- | --- | --- | --- | --- | --- |
| Loft | 21° | 24° | 27° | 30° | 33.5° | 37° | 41° | 45° |
| Lie | 60° | 60.5° | 61° | 61.5° | 62.5° | 63.5° | 64° | 64.5° |
| Offset | 5.5mm | 5.5mm | 5.5mm | 5.5mm | 5mm | 3mm | 2.5mm | 2mm |
| Weight | 235g | 242g | 249g | 256g | 263g | 270g | 279g | 286g |
| Men's Std. Length | 40.5" | 40" | 39.5" | 39" | 38.5" | 38" | 37.5" | 37.5" |
| Ladies Std. Length | 39.5" | 39" | 38.5" | 38" | 37.5" | 37" | 36.5" | 36.5" |
Shaft and Grip:

Material:

431 Stainless Steel

Finish:

Mirror
Showing reviews 1 through 5 of 164
Grant Fitchett

rated this product on

09/09/21

These clubs are honestly the best thing that has happened to my golf game. They are very forgiving especially if you are an amateur and do not have the "perfect" swing technique down. They have made me a way better golfer because I actually can hit straight shots. I can hit the 3 iron 240+ which is perfect if you slice like crazy with your driver for most par 4's I just use it and am on green in 2 shots. The clubs are very nice looking and definitely way nicer than what you pay for, it's definitely a bang for your buck. I will never go back to regular irons for sure. The hybrid irons are the way to go. All the irons have good loft and you don't chunk the ground of cut down as much in the grass for sure. Very smooth. Very reasonable price when you can customize the shaft the handle and what you are getting. Thank you pine meadow. I will be getting the PRE wedges soon to fill out my set.
KenGoodman

rated this product on

09/05/21

Been 1 season with them I liked them but ordered1 inch longer never felt comfortable cut1 inch off and replaced grips with mid size grips now I love them custom wizard was correct told me regular length and stiff
Nick Gennaro

rated this product on

08/30/21

Received my PRE Progressive Hybrid Iron Set this month and have played 3 rounds so far. I purchased them because I've been struggling with my irons over the last couple of years. I've experienced 3 of the best ball striking rounds in a long time which has given me a renewed confidence with my iron game. I just need more time with them to dial in more accurate distances. This set has exceeded my expectations and would recommend them to anyone who is struggling with crisp contact with their irons.
Randy Velder

rated this product on

04/29/21

I would upgrade the grips the pinemeadow grips are bad make your fingers ,hands sore.But the clubs are solid iam hitting 3 iron 190 to 200 use to never carry or hit this club in other sets i've had.
B.E.

rated this product on

04/01/21

Love them. Hit like a dream. The way they play you would think they cost double the price I paid. They look Great also. My Cobras are in the closet.