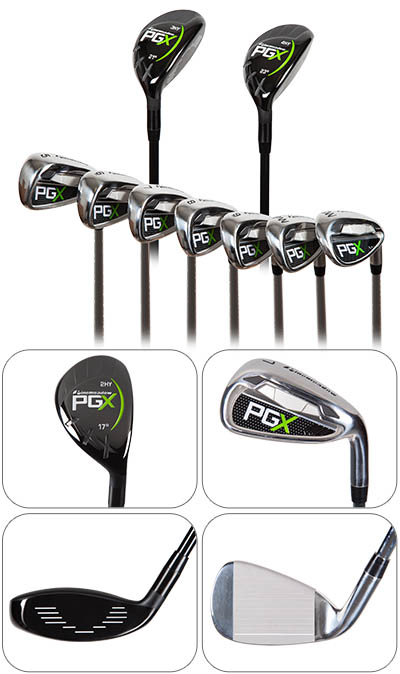 Best Seller
PGX TS Hybrid Set
$389.95
Compare features, performance and price Taylor Made® hybrids and irons.
Hybrid "combo" sets are becoming more and more popular in golf. The combination of hybrids to replace the lower 3 & 4 irons mixed with your regular irons are the route to go if you are like most golfers and struggle with the harder to hit 3 & 4 irons.

The PGX Hybrids (3 and 4) are the latest release from Pinemeadow Golf. The PGX Hybrids are cast from 17-4ph Stainless Steel and utilize "Variable Face Thickness" technology. The center of the hybrid face is 2.75mm thick with surrounding area thickness measuring 2.25mm to 2.05mm. The PGX Hybrids will be recognized as a "hybrid wood" design that has a stealth crown finish and a gloss PVD sole and matte PVD face. Tested by our best golfers, the PGX Hybrids are receiving awesome reviews !

The PGX Irons pair well with the PGX hybrids. The PGX Irons are cast from 431 Stainless Steel and utilize a wide "Power Chamber" behind the face facilitating a trampoline effect at impact. When you combine the "Power Chamber" with the wide sole design the result will be a higher ball flight with considerable distance. The mirror finish and the impact dampening medallion make this club look just incredible.
The hybrid set includes a hybrid 3 and 4 with the remaining irons as per usual.
Set includes headcovers for all hybrid clubs for the set you choose.
Available in a graphite and steel or all graphite.
| Club | 3hy | 4hy | 5 | 6 | 7 | 8 | 9 | PW | SW |
| --- | --- | --- | --- | --- | --- | --- | --- | --- | --- |
| Loft | 21&deg | 23&deg | 24° | 27° | 30° | 34° | 39° | 44° | 56° |
| Lie | 59deg | 60&deg | 61° | 61.5° | 62° | 62.5° | 63° | 63.5° | 64° |
| Bounce | NA | NA | 1° | 1° | 2° | 3° | 1.7° | 1.5° | 1° |
| Weight | 237g | 246g | 256g | 263g | 270g | 277g | 284g | 291g | 298g |
| Volume | 110cc | 105cc | NA | NA | NA | NA | NA | NA | NA |
Shaft and Grip:
Showing reviews 1 through 5 of 5
Thomas Goodnight

rated this product on

04/22/21

Hybrid/Iron set- +1/2" Stiff Flex. If you're worried about the stock shafts and grips that come on these clubs, don't. I admit I was at first, but the grips feel great, and I'm a fan of the smooth areas for what I assume is thumb placement. The shafts do not feel cheap at all. In fact, nothing about these clubs feels cheap. After 150 ish balls on the range, and a 9 hole round, I am 100% satisfied to say the least. The irons are a massive improvement to my Titleist DCI 981's (partly due to technological improvements from 1998 to now lol). These irons are forgiving as long as you hit somewhat close to the middle of the face. No amount of iron forgiveness can help when you completely toe a shot as I've learned haha. They feel good, look good, hit good, and the weight is just right. Ive gained about 10-15 yards per club. Some to do with loft changes over the years, but a lot to do with getting the right length shaft, and a forgiving head. The hybrids feel and perform great as well. I've never had hybrids before this set. First off, they look WAY better in person than in the product images. I was very impressed. The heads are a little heavy, but that is more of a help than a hindrance. Once I got the swing down, I was hitting the 3 hybrid between 190 and 200 yards. Great Ball flight even on slight mis hits. This really is a great set, and for $350 for 9 clubs, what exactly do you have to lose? The headcovers for the hybrids were also much nicer than I expected. Im just really impressed, and really happy with my purchase. I was apprehensive about them even after I ordered and was waiting for them to arrive. Those doubts have been put entirely to rest. I will absolutely be purchasing more clubs from Pinemeadow, as I have a need for a fairway wood, 52, and a 60 degree wedges to round out my set. The only club in my bag that isn't Pinemeadow is my M2 Driver, but performance wise, you can't tell these are clones. Again, I'm thoroughly happy, and impressed.
Kevin

rated this product on

04/05/21

Was finally able to play today. Think the clubs are fantastic. I was just two strokes worse than my best round from last year. Was hitting them straight and longer than normal. Looking forward to this golf season now.
Kevin Venhuizen

rated this product on

04/03/21

Have to admit I was a little hesitant to purchase. After my first round couldn't be more pleased. I am mid 50's and hit the ball longer and straighter than I have in a long time. They are very forgiving when I did mis-hit. My first round of the year was just two strokes worse than my best round last year and was do to chipping not ball striking. Will give it a few more rounds before final verdict but extremely excited about this golf season now.
Dale

rated this product on

01/23/20

Just purchased this exact set and hit them at the range today, hitting again for the first time in 3 months. Got them with the graphite shafts, once I found the rhythm and realized I didn't have to swing so hard, the ball really started taking off. Just love the hybrids so easy to hit, just cannot wait for the snow to melt to hit a real course. These look great and feel great in my hands which was something I was worried about since it was an internet purchase.
KW

rated this product on

09/04/19

I have already played a round of golf with them. Best round of my life. Actually having clubs made to suit my height made all the difference. I will recommend you guys to everyone.