:: Golf Clubs
:: Pinemeadow Golf Gift Certificates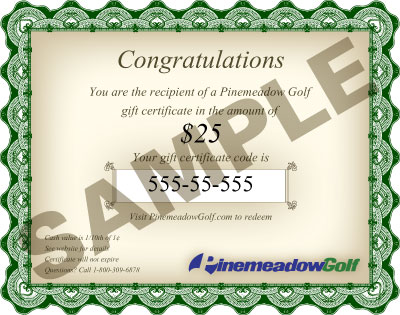 The perfect gift for your favorite golfer.
Pinemeadow Golf Gift Certificates
$25.00
Not sure what club they need? Do not feel like trying to get custom measurements while they are sleeping? Pinemeadow Golf Gift Certificates are the perfect solution when you just can not figure out which club to get Dad, Mom, the kids or that crazy uncle living in the hut out back. It allows the recipient to go online and take in the PinemeadowGolf.com experience first hand. Let them choose what club is going to fit and help improve their game. And the great thing is that you can wait until the last minute and still come out looking like a hero!

Delivery instructions: All gift certificate purchases will be electronically sent to the purchaser via email. The purchaser will receive an email confirming that the gift certificate has been activated and instructions on how it can be passed along to to the lucky recipient.



For the golfer you do not want to risk buying the wrong thing; a gift certificate is always right! Gift Certificates come in many amounts to fit your budget.
Great choice for that very particular person who needs to choose their own clubs.
See the rules and regulations.
Gift Certificate will be sent to you by email.
See Description and Features for more details.