:: Golf Clubs
:: Pinemeadow Golf Gift Certificates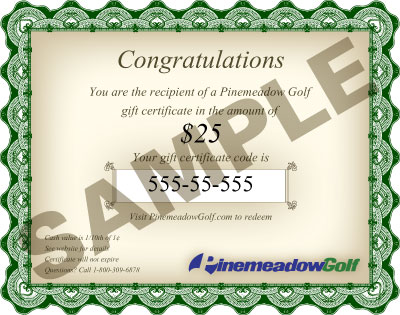 The perfect gift for your favorite golfer.
Pinemeadow Golf Gift Certificates
$25.00
Not sure what club they need? Do not feel like trying to get custom measurements while they are sleeping? Pinemeadow Golf Gift Certificates are the perfect solution when you just can not figure out which club to get Dad, Mom, the kids or that crazy uncle living in the hut out back. It allows the recipient to go online and take in the PinemeadowGolf.com experience first hand. Let them choose what club is going to fit and help improve their game. And the great thing is that you can wait until the last minute and still come out looking like a hero!

Delivery instructions: All gift certificate purchases will be electronically sent to the purchaser via email. The purchaser will receive an email confirming that the gift certificate has been activated and instructions on how it can be passed along to to the lucky recipient.



For the golfer you do not want to risk buying the wrong thing; a gift certificate is always right! Gift Certificates come in many amounts to fit your budget.
Great choice for that very particular person who needs to choose their own clubs.
See the rules and regulations.
Gift Certificate will be sent to you by email.
See Description and Features for more details.
Showing reviews 1 through 3 of 3
Jacob

rated this product on

04/28/10

I received this gift card in the mail and was amazed at how beautiful the gift card was. I had a really hard time parting with the card, so I took a picture of it, so that I could remember it forever. The gift card worked well too. It turned into a golf club and arrived at my house in a timely manner.
Tom K

said the following about this product on

05/02/07

Ordering, shipping, and material were first rate. I was dissatisfied with one product and called customer service. Probably the most completely satisfying exchange experience ever. Will purchase from again.
Paul Gaymon

said the following about this product on

06/27/06

I was introduced to your product two weeks ago and I have to say that I am very imprtessed. I used a friend's hybrids and loved everything about them. He actually surprised me by ordering one and having it delivered to my house. The one he got me had the inter-changeable weights and that was something I had never seen before. When I called the 800 number to ask about the weights, Scott was very helpful. You have certanly made a great first impression on me, and I look forward to useig more of your products in the future. Thank you for you time and effort.