:: Golf Clubs
:: Fifty/Fifty Bottles - Vacuum Insulated 64oz Bottle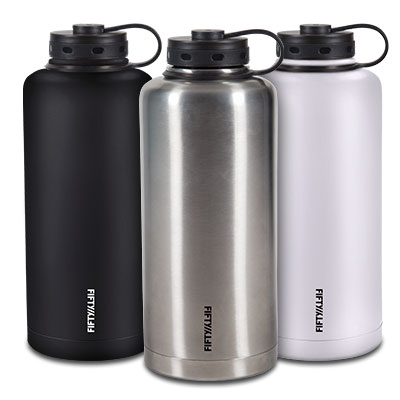 New Arrival
Fifty/Fifty Bottles - Vacuum Insulated 64oz Bottle
$39.95
Whoops!
You've found a product that we no longer carry. We appreciate your interest and encourage you to explore the rest of our site by clicking here. For help finding a similar product or other questions, please contact our customer service team.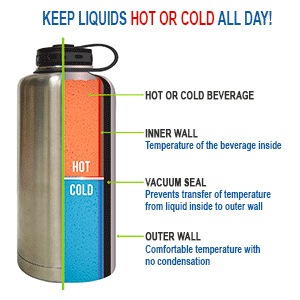 This is the perfect bottle for the course! The biggest problem with the water bottles of today is once you fill them up with cold liquids, after one hole your beverage is warm. This will not be the case with a vacuum insulated bottle by Pinemeadow.
Our 64oz Double-Wall vacuum insulated "Barrel" growler is a fresh take on the growlers of today. It features the same vacuum insulation technology as our other Fifty/Fifty bottles to keep liquids hot or cold all day. Vaccum insulated technology prevents condensation & keeps the outside wall of the bottle comfortable to the touch while keeping the liquid inside at your desired temperature. In addition, the leak-proof cap preserves the carbonation of the beverage of your choice for days.
Custom Imprinting Options
Want to custom a bottle of your own? We can do it for you. Minimum orders start at 24 units. Besides the obvious of being a great water bottle they are well suited for:
branding and resale
corporate gifts
golf courses, breweries, universities and more
It's the perfect way to get your brand and logo out there for people to see!
We offer two ways to brand your bottle. One option is the sleek looking laser engraving. The laser engraving look gives you a clean look and can be done in smaller quantities. This is the most popular choice.
The other option is a screen print. The screen process allows you to add color to the bottle. We can do up to 4 colors depending on the logo.
For all details and pricing for custom bottle options contact us at 1-800-309-6878 and we will be more then happy to help you.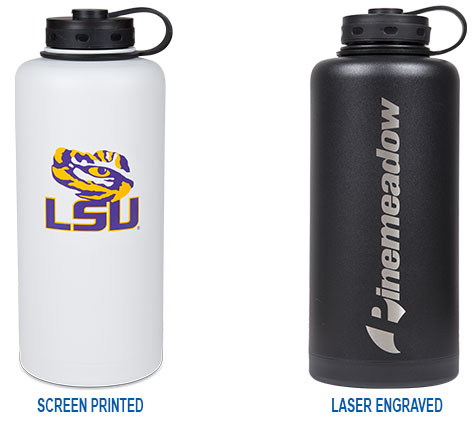 Cleaning Instructions
We recommend hand washing your stainless steel water bottle with a non-abrasive dish soap.
For a more thorough cleaning, add 1 teaspoon of white vinegar or baking soda to the bottle, fill ¾ of the way with warm water, close and gently shake. Rinse thoroughly and let your bottle air dry with the cap off.
Double-Wall vacuum insulated technology keeps liquids hot or cold
No liner and will not retain odor or taste
Material:

18/8 Stainless Steel

100% Recyclable