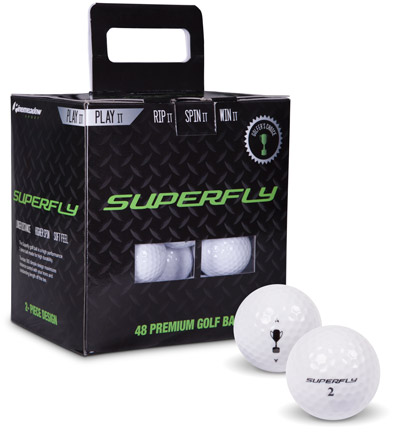 New Arrival
Superfly Golf Balls
$34.95
Whoops!
You've found a product that we no longer carry. We appreciate your interest and encourage you to explore the rest of our site by clicking here. For help finding a similar product or other questions, please contact our customer service team.
The Superfly golf ball is a high performance 2 piece ball made for high durability.
See Description and Features for more details.
Showing reviews 1 through 3 of 3
Big Red

rated this product on

12/26/13

This is an updated review from my review on 05/18/13. I got a golf practice net for christmas and went to go use these balls in it and 2 of them cracked and one of them had a chunk of the ball hanging out of it. so after that happened I didn't want to use them anymore so I used some other balls. I have never seen a golf ball do this before. TERRIBLE!!! DON'T BUY.
Big Red

rated this product on

05/19/13

These are the worst golf balls I have used ever, The cover is EXTREMELY undurable and when I topped it with my sand wedge the ball got a dent in it from the bottom of the club. DO NOT BUY THESE PEOPLE!!!!!
Big Ern

rated this product on

03/06/13

Best golf balls I have hit in a long time. Very good distance and hit straight as an arrow! Buy them people!!