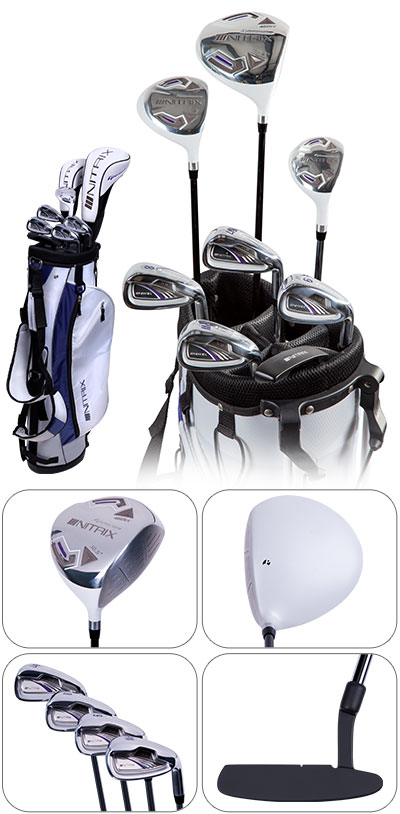 Out of Stock - Return Date TBD
Nitrix Pro Ladies Complete Set
$239.95
Our Nitrix Pro is a complete set for golfers of all skill levels. Starting with an over-sized driver and a 3 wood, both equipped with graphite shafts for optimal power and consistency. Then we have a hybrid matched with the 6/7, 8, 9, and PW stainless steel irons ? featuring wide soles and steel shafts for better accuracy at any distance. Rounding out the set is a cavity-back putter and carry stand bag with Dual Strap Plus and matching headcovers for the driver and 3 wood.
Nitrix Pro is a complete golf set for golfers of all skill levels!
Set includes driver, 3 wood, 24 degree hybrid, 6/7, 8, 9, PW irons, putter, stand bag and headcovers.
Oversized 460cc driver and 3 wood graphite shaft for optimal power and consistency.
24 degree hybrid and 6/7, 8, 9, PW irons feature stainless steel and wide soles with steel shafts for better accuracy at any distance.
Precision cavity back putter included.
Carry stand bag with dual strap to carry everything you need on the course.
Matching headcovers for driver and 3 wood.
See Description and Features for more details.
Showing reviews 1 through 4 of 4
David Strauss

said the following about this product on

12/28/15

I just bought these clubs for my girlfriend for Christmas. She got interested in the game after coming with me to the driving range a few weeks ago. She hit the ball great for having never swung a club before and was hooked, she kept asking me to take her to the range. So to foster that interest, I decided to get her some clubs for Christmas. I was looking for a less expensive set of clubs since I wasn't sure if she would really stick with the game or if this was just a passing interest. She has hit these clubs every day since opening them. And I agree with Bob's review, these clubs are great. I don't know where the other two reviewers bought their sets, but there were no problems with the set I purchased. They look great and came with everything as advertised. My girlfriend particularly liked the white driver, wood and hybrid-- she thought they were "so pretty." And they felt great to hit. Again, like Bob, I just had to swing them a few times to see how they felt. I currently play Taylor Made RSIs and while they aren't quite those, they are still great clubs. When you strike the sweet spot you can feel the "pop" that you get with most modern irons. The driver's and woods also had a nice snap off the face when you connect with the ball and I enjoyed swinging them. For a beginner these clubs are perfect. Especially if you are just introducing someone to the game and they've never even set foot on the course yet, this is the perfect set. It gives the look of "pro" looking clubs for an incredibly reasonable price. I've read message boards that say you should just go out and put together a set of used name brand clubs, but that seems silly, I didn't see a single example of doing that for under $200. Here, you get a nice dual strap bag, a full set, and all for well under $200. Will this set be the set that my girlfriend uses for the rest of her golf career? I hope not. But is this a set of clubs that strike the ball well, look great, and come with everything someone needs to get started? Absolutely. I looked at some other "starter" sets and nothing comes close to these. I would definitely recommend these to anyone who is looking to get into the game. They
Bob Shin

said the following about this product on

12/10/15

I just purchased this set for my 13 year old daughter as a clearance item because it was missing the PW, 6/7 iron, and bag. Before giving them to my daughter for Christmas, I just tried the 8 iron on my indoor driving range with my Voice Caddie just to see how they would feel. First reaction...I was blown out of my shoes at how nice they felt!!!! I play with $3500 Miura irons (CB 501s) and play to a 9 handicap. I couldn't believe how nice the 8 iron felt at impact, almost as good as my forged irons when hit on the sweet spot and not as jarring as my Miuras when not struck in the sweet stuff. The shafts are lighter weight because they're are women's clubs which should be perfect for my daughter but I was getting better numbers on my voicecaddie for smash factor and swing speed. Obviously I need to try them on the range/course to see the ball flight and direction as the heads are offset a bit more than my irons. But WOW, I can not express the surprise and satisfaction of this brand so far. My daughter might be disappointed that it's not a name brand but I can't wait til she hits them. I'm hoping the driver and hybrid will be to her liking as the build quality appears very solid. At address, the woods look very similar to Taylormade R series clubs and the length is perfect for women or even shorter men. I only wish this set had the PW and 6/7 iron because if everything is consistent with the irons, they should be similar in feel to the 8 iron. I'm going back to the Base Exchange to see if they have a Men's set with the same irons heads as a backup set for me....they're that nice, especially for the price. All I can say is WOW!!!
Brent Weber

said the following about this product on

06/30/15

Just got my wifes set today. Very cheap quality. Painted and can see the run and drip marks. The 3 wood that came in the set was a mens pgx not a womens nitrix pro. Hopefully customer service returns my call and will exchange the club for the right one.
Robert

said the following about this product on

06/25/15

Purchased this set for my wife, she will be absolute beginner. Initially this set appears to be well built and looks like it will perform well. I'm disappointed that the hybrid has a steel shaft and does NOT come with a headcover. I know this is a budget, beginner half-set, and graphite shafts are more expensive than steel, however every item listed at Pinemeadow states" We highly recommend graphite shafts for all hybrid clubs." Except for this set apparently. I would think this would be a simple fix to replace the hybrid shaft, especially for a ladies set. Also, the 6/7 iron combo seems silly to me. Just call it a 7 iron. Also no headcover for the putter, again not a big expense. I'm really only being picky, this set seems serviceable and well made, just could easily be improved with a little attention to detail...headcovers and bag are nice as well...